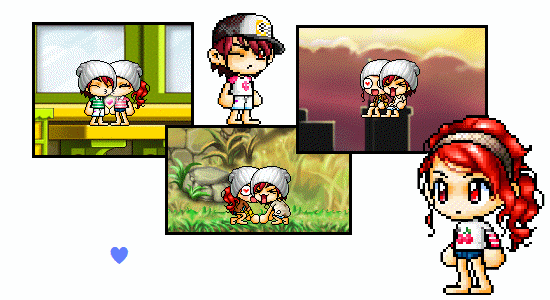 EmoBoii
Name: Joseph Ong (Joe)

Age:20 to be

Attached to Corine Ng

Msn: Joeong90@hotmail.com


underlinestrikebolditalic
The only person thats important in my life
Corine Ng :D

Music Box
Links
flownaway
Credits To
No Credits!
Sunday, July 18, 2010
ytd book out at 10+ went home bathed then meet gf at cwp trained down amk had ichiban then walk around bought gf's favourate drink from koi cafe quite nice haha then later went to bought cup noodles and stuff for camp then went down to find mum then later cab home rest awhile then went to cwp gf got her piercing then later walked to cw hse for qw's BBQ birthday then send gf off at 9 then walked back his hse again then chit chat then later took bus home with eric at nearly 1am :D sunday wake up at 9 prepared meet gf and mum went to mac eat then go down her shop stayed until 3++ then took train home rest awhile hahaz see ya guys next week
Sunday, July 11, 2010
so sianz ah booking in again... today morning meet gf and she was late haha nvm now fair le hahaz went down to find mum had lunch with her but endded up eating separately haha then later went to imm with gf shop shop then had mos burger then send her home awww thats the most saddening part of everyweek luh T.T T.T then i took bus home saw erin then chit chat then went home bath prepared going out soon see ya next week loves :D <3<3 hope u like ur present <3<3<3
today booked out at 10.30 went home changed then meet gf at wdls platform sorry sorry make u wait T.T then trained down clark Q then bought her sticky candy then walk around train to plaza sing walk and had pasta mania for lunch then later went to the cathay shopped bought her milkshake at bens and jerry then later train down find my mum after that took cab home then wanted to watch movie then some ppl pig wan sleep then no movie haha send her home at 9+ then went home then cab down yishun find eric they all then awhile back to cwp movie eclipse okok only fighting scene was nice only haha then shared cab home :D
Sunday, July 4, 2010
sian ah booking in again hahaz... sad week cuz got RT which means i every saturday morning then book out kns ah! saturday morning booked out around 10++ then faster went home to bath then go meet gf went to suntec to buy things for my mum's shop then later walked around then around 4+ trained to bukit gombak find my mum then stayed there for dinner then 8+ train back cwp walk around then send gf to mrt then went home sad ah! sunday morning meet gf at 11+ then went down to mum's shop helped out awhile then go give flyers we really had a great and happy time giving flyers to letter box haha then later train back home went home wanted to take a small nap then gf keep disturb BAD!! hahaz then later send her cab home then i went home prepared to book in againZ T.T

happy 8th months in advance :D
even if we are apart i'll always be with you <3
Saturday, June 26, 2010
shag ah sat passed again... morning wake up around 11++ then stone till 1pm then go prepared meet kh and the rest went to eat ahjisan then later train down to town pool for about 2hr+ then slacked wanted movie but they watching 2.45 AM sad i cant ton is i cant afford cuz sunday i cant waste time sleeping so i went off with qing wen at 9+ reached woodlands around 10++ then acc him awhile then i took bus to vista bought my cup noodles then walked home sian ah 2moro booking in again wth!
I miss you so much dear! gonna wait for another 7 days before i can see u again its tough but i will endure it just for you smile! and good luck to ur exams :D <3<3
Friday, June 25, 2010
finally its friday again... booked out at 7.30 then gf say she not coming then end up surprised haha saw her with my mum outside camp then dad drove us go yishun eat then later send her home sighs what a fast 1 hr to meet her only and have to send her home whats sad is i have to wait another 7 days before meeting her again T.T its sad for me but i will endure cuz her exams coming also :D i need to support her morally also! jy okays loves ! meet u again next week haha :D good luck for all ur papers!
remember even if we are apart,i'll always be with you <3
Sunday, June 20, 2010
ppl is monday blues but for me is sunday blues cuz i need book in in about few hours later T.T... ytd had alot of fun meet up with gf then went to plaza sing went to eat mos burger for lunch then walk around shop around then bought gf her stitch toys which she looked for quite long happy? hehe then later went to daiso bought my ns stuffs then later trained down ion then gf bought her shoes finally got it hahaz then walk around went to cine walk walk then later cab home from cine awww 26 bucks but no choice need to cab cuz we need to save time hahaz then went home packed abit of things then later went out supposed to go eat dinner then donno what to eat end up we didnt eat then send gf home then i went back cwp wait for ky ty emmo and yujie then later they left at 10 then me and yujie want to go movie then timing very late go end up arcade play awhile then 11 took bus home... sianz ah army life not bad trainning xiong but i miss my GF alot sia T.T mug hard for ur exams alright <3<3!